UBS Twint
Quick redesign exercise to keep the brain fresh.
Twint is a swiss digital wallet.
With TWINT, you can use QR codes and Beacons to make contactless payments, transfer or request money to and from someone, pay the parking fee, and many others.
Almost every Swiss bank has its version of Twint wallet for their clients, but not all of them are user-friendly and up-to-date. UBS was one of them, and this is the reason for my interest in the redesign.
Before
Source:
https://www.ubs.com/ch/en/private/digital-banking/private/twint.html
After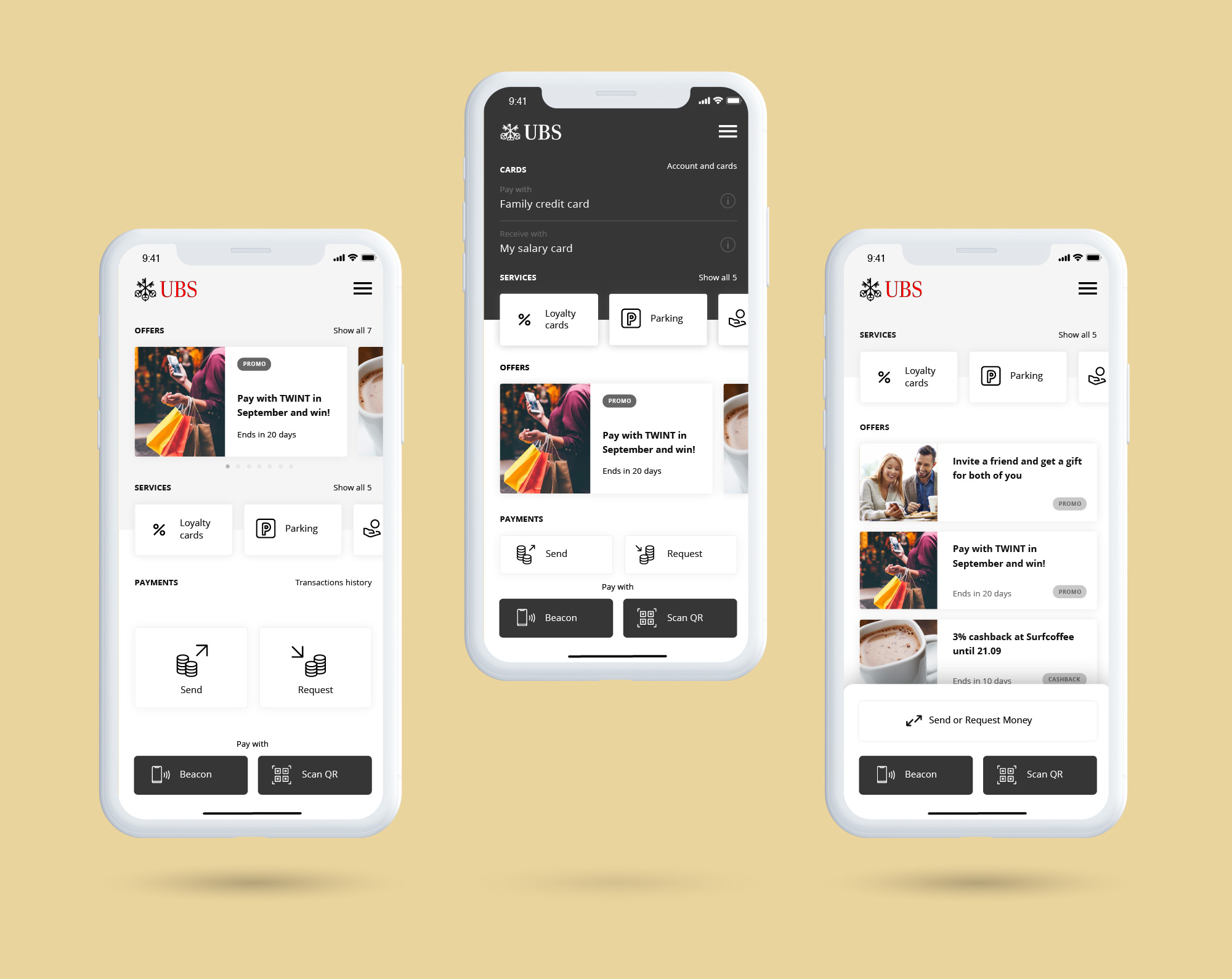 Format of the project

Here are my constraints:
1. I limit time to one evening, max. 5 hours.
2. A redesign should include at least 2 options.
3. Work on both UX and UI.
Approach & Process

Even though the project is limited in time, I want to cover all stages of the design process:
Learn about users.
Define the audience.
Understand the goal.
Align with the company's mission.

︎ Define


What could the company build to fulfill the customer's needs?

︎ Ideate


Brainstorm many possible solutions.
Prioritize and choose an idea.
Speedy sketching.
︎ Prototype

Build a representation of the solution.
Start with lo-fi wireframes, refine, then move to hi-fi prototype.

︎ Test

Gather feedback from users.
Measure success.
Come back to ︎Ideate. Repeat.


Empathize
Goals

Propose new design for home screen of UBS Twint app.
Kepp existing functionality. Improve visual style.
Users

Time is limited, and I can't conduct a proper quantative research.
But what I can get from a past
Twint redesign project
by Ginetta:
︎ Swiss and expats living in Switzerland
︎ Most of them are between 25 and 45 y. o.
︎ Use cash or card payment more often
Even though Twint was released in 2015 and known in Switzerland, people are not used to mobile payment. The card or cash payment behavior is programmed so strongly in the user's mind that we need to change the habit.
︎ Don't want to pay extra attention
Because they can easily pay in a more conventional way.




"We need to expand Twint's ecosystem of functionalities that exceed the mere act of mobile payment. Payment is simply one functionality that "lives" among several others. Defining the full Twint experience will enable the user to save money while they pay."

– from the research of Ginetta agency






---
Main idea of Twint and it's redesign:
Bring to UBS Twint users

more value

than any digital payment app can.

One of the way to achieve it:
Help users to

save money

by using the app.
---
Ideation

Analisys of available functionality

---
It is a very powerful feature as it brings users value that other apps don't.

There could be also special offers from the bank, that promote bank products and would convince clients of other banks to switch to UBS.



---
Pay by scanning QR or via beacon
Send and request money
The core of the app.

Quickly and easily pay in the shop or transfer to a friend — those features our users use most often. These features are probably the main reasons why they download the app.

---
Pay parking fees
Keep and use loyalty cards
Nice to have it at hand and can make life slightly easier. Smooth user experience can convince users to prefer Twint over other ways to pay for parking and keep loyalty cards in the wallet.
---
Buy vouchers
Donate
Nice to have, but probably most of the people use those features rather rarely because they go directly to the website of the merchant to buy a voucher or the website of the organization to donate money to.

The ability to have all the options for Vouchers and Donations and smooth UX could be reasons why our users would stick to the app more often.
---
Used unfrequently, but yet rather important. Not necessarily has to be presented in a prominent manner.


---
Account information
Credit cards
Notifications
App settings
Help and Contact
System functionality that can be acessed via navigation menu.
I like to think with a pen in my hand, that is why quick sketching helps a lot during the ideation phase.
Prototype

Solution #1


Focus on Offers as could bring user a lot of value, and on Payment (payments and transfers), based on assumption that it is the most important feature for user.




Solution #2
When I use any wallet, either physical or digital, I want to have a clear overview of my assets.

We could discover how important is it for users, and probably add an overview of accounts and cards, including access to balance, ability to manage cards, rename it, add new ones, etc.
Solution #3

I am coming back to the idea of bringing value by offers, and the assumption that we have many of them, and those are appealing for users.

After analyzing Twint app of competitors, I found out that most of them use a carousel structure for offers.

What if we could change the approach? The module with the most important features for a user will be fixed, and most of the space on the screen will be used by offers.



Summary

The 3 represented solutions are heavily based on my assumptions.
If I happened to be a designer at UBS and worked on this project, I would start with product discovery: challenge our assumptions, conduct the user research and only after that create prototypes, and iterate on them based on tests and feedback.
---
Anna Lukyanchenko 2021 — all rights reserved